Here's how I answer the question: "How much does a website cost?"
I get this question all the time.
When prospects call they often ask for a price right off the bat. A fair question, but it has a complex answer.
So I back way up and start from the beginning.
Before I can determine the cost of any website project, I need to understand the purpose of the website and outline the scope of work. Here are the elements we consider in order to get to a sensible, workable budget.

There are 4 main areas that determine how much a website costs. Don't worry if you don't know all the answers to these right away. We are here to guide you and help you determine what you need in your project.
DESIGN : Is there a Brand Strategy in place? Does it need to be defined or refined? Is there a budget for photography, video, custom artwork or visual effects? Read more about why a brand strategist is the smartest investment you can make
TECHNICAL SPECIFICATIONS: How the site functions, including navigation and responsiveness. Is a shopping system, registration or donation function needed? Are there forms, applications or downloads specific to you?
CONTENT: What do you have now? Is it converting to sales? Let's look at that. Estimate the number of pages you think you need so that we can estimate creating the headlines, copywriting , image selection and preparation.
DEVELOPMENT: The actual site build in WordPress; content population, SEO & ADA compliance and site launch.
Let's break each one down.
Ready to try our Website Cost calculator?
1. Design
Designing a website is not just picking pretty colors and cool-looking fonts. Your home page is the first impression of your brand and has to
spark interest the second people see it.
If not—
CLICK!
Without a strategy & concept, there can be no visual and verbal story for the design and language. ~ Boss Lady
The Brand Strategy comes first.
How often do you visit a site and don't even know what they do?
Does it look and sound like everyone else's? Is it
clear
what you do and how that helps people? Is your website design helping your business grow?
When your vision and people's deepest needs and desires are aligned, big things happen!
With every
website design
, we
explore a range of concepts & ideas
that
define the identity of the company
. If you are in technology, you don't want to look and sound like Pepperidge Farm.
Learn about our brand strategy work
When a rebrand is necessary, we explore with the client who they are, what makes them extraordinary and how they solve problems.
Explore our 3-Step Process here
Our design presentations often take many days to create and produce. They include:
A study of the pain points your potential customers have
Creating the ideas and headlines showing the strategy, concept and story we will tell about your company.
Several design options, each one with a deliberate focus and purpose to communicate how you are a champion for your customers
Visual ideas for color, images and graphics that align with the brand concept to create a visual and verbal story
Research on competitors to see how we can position your business differently
Sample headline ideas that tell your story clearly
Explore our 3-step "break through" process

2. Technical Specifications

The technical needs of a website can have the biggest impact on the cost of a website. Every function from contact forms, newsletter signups, shopping carts, registration forms, event calendars, donation acceptance—all of that can affect the time and cost to build a website.
Before we quote a price, we imagine the site in action.
It may be a simple brochure site with a contact us form, or it can be a complex site with a shopping section. Our high level programmers write in language the Internet understands.
We build all of our sites to be mobile responsive.
Often, things like applications and forms are a challenge to work well on mobile. Navigation menus with many pages or levels have to be thought out to work easily on a small screen. We test every element and adjust responsiveness where needed.
There is so much that falls under technical needs it would take a week to list it here.
It even includes launching the website, which is not just pushing a button. We ask our clients to think out all functionality with us so that we can tell them how much their website will cost up front.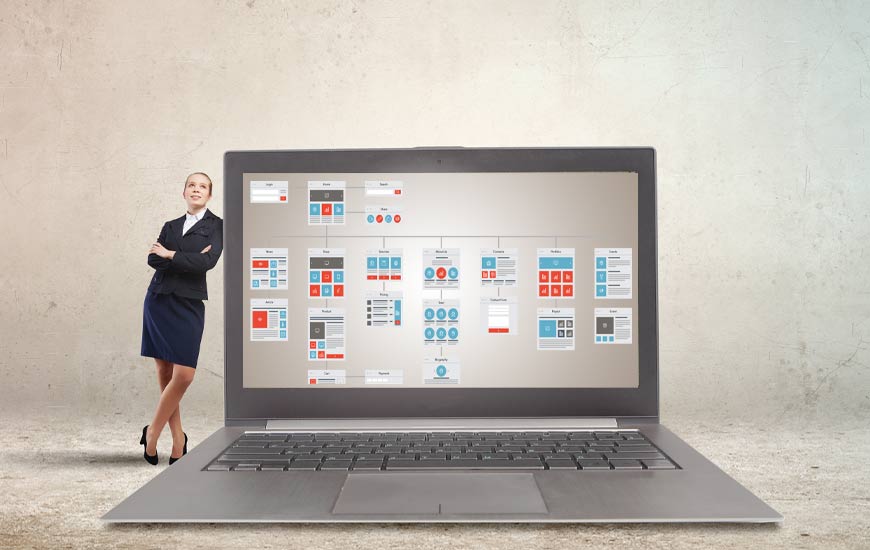 3. Content: The number of pages
Before we quote a price, we outline a basic site map to see how many pages will be needed. A 50-page website will cost more than a 10-page site.
In order to create an experience that motivates a visitor to take action, we must create irresistible content that gets their attention. Generic, boring copy just doesn't work.
We want visitors to decide that our client is the
clear choice
to buy from. That takes a
deliberate use of words that are written to create a result.
Saying "We have over 150 years of combined experience" isn't going to open any wallets. Nobody cares about that. They DO care about how you
solve their problem
. Buying is an emotional experience.
Great copy can show that.
We sometimes agonize over a single word, that's how important each and every one is. And that takes time and talent.
If the client chooses to provide it, we remove that cost from the estimate.

4. Website Development

This 4th element of the cost of website depends on all of the above. Once that is determined, we estimate the cost of building the live website. Once the website is designed, the structure built and the content written, we have to put it all into the website's pages.
Today's websites are no longer built with long blocks of dense text. No one tolerates that anymore. They just skim over it.
Content is split into smaller bites
, separated by headlines, images, graphics and video to stimulate and maintain interest. That means we never just stick a picture on top and dump a block of text below. Each page is built individually according to the actual content.
We work the content into logical sections page by page with clear headings and in a hierarchy of importance.
Calls to action are added to every page to
increase conversion
. Sidebars may be needed in blog sections or a form added to the page.
5. Last, but certainly not least, we optimize every page for the search engines.
SEO
involves keyword research and the
skill to know how to structure a page.
We write the meta descriptions and optimize every image. Often, minor edits will be made to the content to include keywords.
This sets up a website properly so when the client is ready for a campaign, the SEO folks can take off from there.
What we need to know from our CLIENTS to answer the question: "How much does a website cost?"
Is there a clearly defined brand strategy?
How many pages are estimated?
What features or functions are required?
How will content be provided and who will write it?
How far along are you in gathering content?
What is your deadline and budget?
Remember, you will have a team of people with different skills working on your website.
Our programmer's skill set is very different from our designer's, but we often collaborate on usability, so at times you have 2 or more people on the job. Below are the people who work on a website. Often, each of our team members handle more than one of these, but this gives you an idea of the skills involved.
In the time=$ world, as a rule of thumb, budget about $1,000 per website page.
At a modest $150 an hour for an upper-level professional design firm, that amounts to about 6.5 hours per page. It might sound like a lot, but that includes research, concepts, design, programming, creating content, doing the SEO work and populating the website.
That's working very fast and efficiently with few revisions.
Making an investment in a website that generates sales is crucial in today's ruthlessly competitive market. You can recover the investment with just 1 or 2 new clients.
Knowing the cost of a website up front and understanding how we get there helps you appreciate everything that goes into your website design and how we determine a fair price.
In our experience, the lift in sales more than pays for a website investment with just a few new clients!
Read more about how a brand audit can reignite business growth
Planning a project? Give us a call and we'll walk you through our "break through" process.