The Telehouse Website Design and Rebranding had to meet new challenges.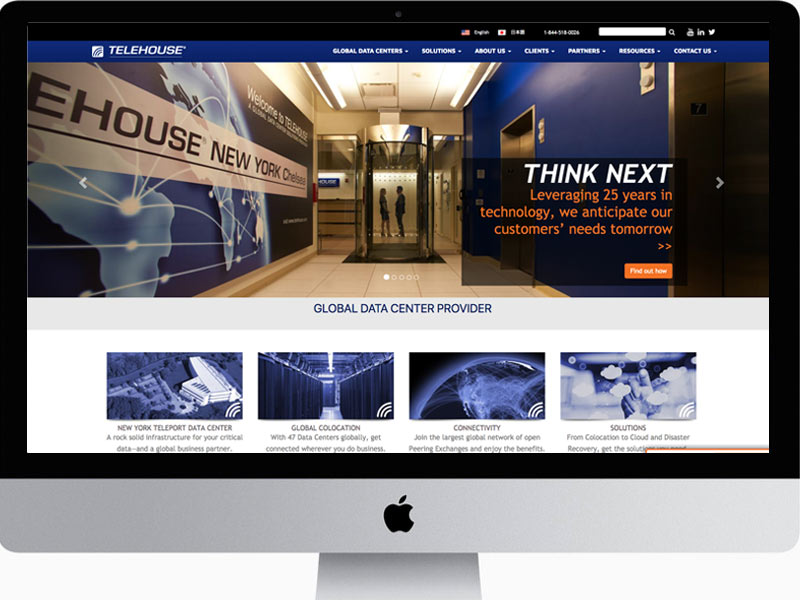 Telehouse, a data center provider, was at a crossroads when they hit their 25-year milestone.
In the tech industry, this can actually make people think you are the Flintstones, and their own market research confirmed this. We knew a rebranding was needed to shift this perception.
The concept "THINK NEXT" was created to show that they are ahead of the game. Copy and stories were created around this idea to talk about new innovations in their process, improvements to their own technology and how they are anticipating customers' needs, not chasing them.
Giving them a global company presence
This website is the US arm of a global data center company. It was also important to show the US as a part of the global presence of the company while showing the advantages to customers of working with Telehouse. Visit the website
The result is that new, major global IT and communications companies are now working with them.
Designing the Mega Menu
A big part of this redesign was to create a menu that was user-friendly given the size of the site (100+ pages). It was challenging for visitors to find the information they wanted without wading through a messy menu.
We reorganized the menu by a hierarchy of information, with 3 levels of information. It is simple and keeps everything visible. Additional sidebar menus on the inner pages allow users to navigate around each section.

The main section pages are visually descriptive and give an overview of the inner sections, so users see what they contain. From there, they can click through to their interests.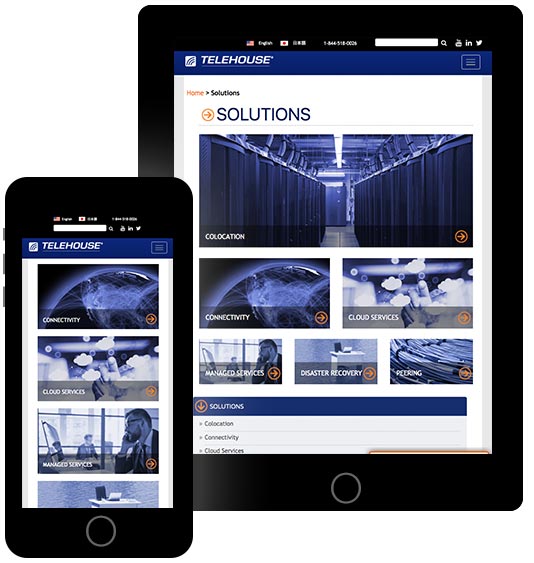 A section overview page, linking to inner pages within this section.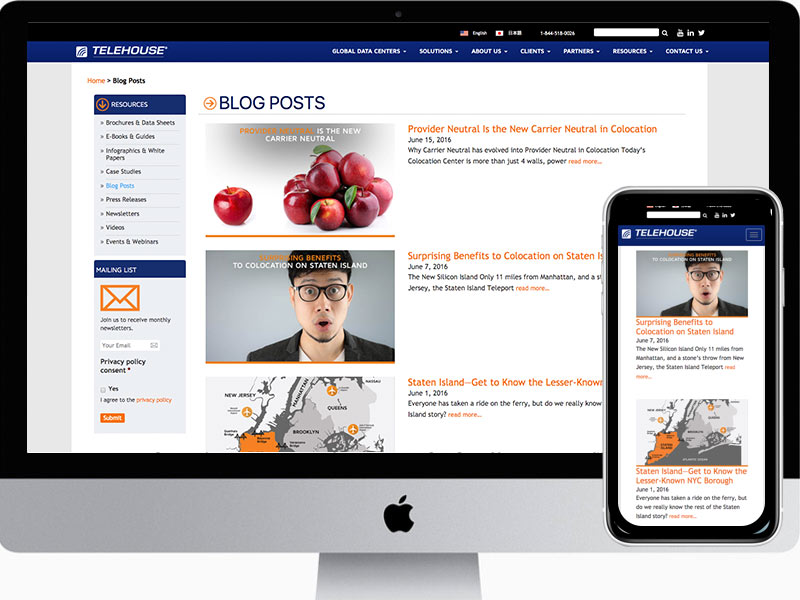 The blog design is branded with the orange bar to create consistency and give it a special brand touch, and Network9 wrote articles for them for 18 months.
Learn more about our Website Design Services here
Additional technical features
The website now has a Japanese translation option which we developed to reach their home audience in Japan.
There is a customized, precise search option to easily get to the information people want on this large site.
Read our website design blog articles here