First of all, what is a Tagline?

We all love taglines so much that many of them have even become a part of our everyday language. We love em! They are usually short and are permanently identifiable with a brand.
The actual definition of a tagline is, according to Merriam-Webster:
A reiterated phrase identified with an individual, group, or product.
OK, that's true, but it is the generic definition of a tagline.
What is a tagline in marketing?
In marketing , a tagline is a short, memorable phrase that expresses the personality, true value and/or function of a product. Great ones tell a very short story.
"Tagline" has become synonymous with "slogan" in current lingo.
A tagline is meant to stand the test of time and is identified with the brand. If the company is really lucky their tagline will become part of popular culture.
"Just Do It", "Think Different", "Where's the Beef?", "Who You Gonna Call?" "I Can't Believe I Ate the Whole Thing!" all made it to cult status.
See my list of 150 of the best taglines ever written
In a way, a tagline is a mini mission statement for a business.
It motivates both customers and staff. People love thinking they think different too, and identify with Apple products. They feel cool using them. If you work at Apple and don't think different , go work someplace else.
Taglines are used in:
Marketing
Advertising
Brand Identification
Recognition
Storytelling

Brand taglines are not accidental or contrived. A big idea doesn't grow on trees.

Many people think because taglines are typically short, they are easy to write. Even that they can just make something up that sounds cool.

So not true.

I bet "Just Do It" took many, many hours of brainstorming, research, and internal questioning to arrive at those 3 iconic words.

I imagine the team that created this talking about the true value of Nike and what would make the brand aspirational for days. I bet they talked to a ton of customers too.

The result is authentic to Nike. That's why no other company can own it—or anything like it.

Learn more about our brand strategy work

Notice there's nothing in the tagline about shoes. It's about a dream customers have about being an athlete, or at least, feeling like one.

What is a Headline Vs a Tagline?
Headlines change more frequently and are associated with a particular product or campaign.
Here's my secret formula for a perfect headline:
√ GET (your solution to a problem)
√ AND BE (who the customer aspires to be or feel)
Here's an example:
"Get tips from media stars to look like one on Zoom."
On a website's home page, for instance, a tagline and headline may appear together. There may be many headlines throughout the website pages each one related to the content. For example, Nike's Tagline (slogan) is Just Do It.
One of their products has this headline:
The New Superrep Cycle: Meet the training shoe designed for the ultimate spin sesh."
A business tagline (slogan) is a statement about the company itself, and has a broader meaning. It stays with the brand over the long run and appears on all marketing products.
"The Best a Man Can Get" is so good it has lasted over 50 years. Its double meaning and an aspirational message has enduring appeal. What man doesn't want to be the BEST?
Learn more about our website design work
A note about the current crisis…I believe we all have the knowledge and skills to get people through this crisis and come back even stronger. You just have to let people know your product is the right medicine to relieve their pain.
That's why I created a Guide to Winning New Business—Even now! Download it here!
Steal an old tagline and make it great again
Think about "Make America Great Again" . This version was stolen from Reagan's "Let's Make America Great Again" . Who doesn't want a great America?
How many versions of this tagline have you seen? Make America Gay Again, Sane Again, Hate Again, and on and on.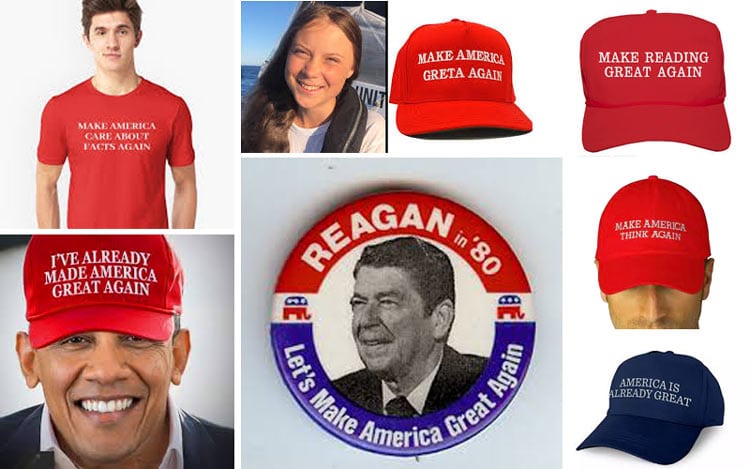 How to write a great tagline: Start by brainstorming with your team
Types of tagline styles:
Benefit: "Save money. Live better"
Function: "The quicker picker-upper"
Action: "Let's go places"
Aspiration: "Share the fantasy"
Statement: "Good to the last drop"
Question: "Where's the beef?"
Brainstorm your brand with people
Get a big pad of paper or whiteboard and a bold marker
Invite others from all departments to join in the fun
Make a big pot of coffee
Ask leading questions (see below for ideas)
Write every word or phrase about how you see yourselves and your company on your pad, both positive and negative
Group the answers into buckets
Look for words that excite everyone
Talk to your clients

Gather information online
Create an online survey for customers to share their opinions
Use language from your reviews
Gather comments from social media sites
Check out online discussion forums for your type of product or service. These can be a gold mine.
Questions to ask: Customer and client-related
Who is my ideal customer?
What is their private hell at 4 AM?
What emotional triggers or concerns drive their decisions?
What pressing problem(s) do they need to solve?
What objections might they have with purchasing my product or hiring me?
Tell a few stories about how you pulled a rabbit out of the hat for a client. The format is 1. What was the problem? 2. What did we do? 3. The result.
Questions to ask you and your staff
Why are you in this business anyway?
What motivated you to do what you do?
What do you do that is unusual or extraordinary in your protocol, process or point of view?
Why do you work here?
What emotional promise can you make to your clients?
What do we offer?
How does our product/service solve a problem
How does it work?
What is the magic?
Questions to ask your clients
Why did you choose us?
What words would best describe us?
How do you feel working with us?
Questions to ask about competitors
What are our competitors doing well?
What are they missing or doing wrong?
How do we differ?
Where do we fit in?

You now have a massive amount of intel. Now you need to put it into use to understand the true value of what you do or sell.
Get rid of distractions
Make more coffee
Write the most powerful words or phrases on Post-Its
Discuss your impressions of what clients said, what you heard online and what you learned
Have each team member write down the top 5 ideas that impressed them  most
Make groups of related themes, see what emerges. Look for patterns and similarities in the ideas.
Write a statement for each theme
Refine each one
See how simple you can make it.
Group opinion time is over.
Meet with your leadership team and talk through each statement.
Keep going and see if you can take the best ones and make them even shorter.
When the lightbulb goes off, you've got it.